Our Service Times:
Sunday
9:15 AM – Bible Study
10:30 AM – Worship
Thursday
2:00 PM – Crafting Ministry
Monthly
Fellowship Lunch on First Friday

Our Congregation seeks to be a healing and redemptive fellowship living out our faith in Jesus Christ. Our members are conservative and liberal, activists and supporters, artists and veterans. We are from different backgrounds, but we sense that God calls us to worship God in this place, enjoy fellowship with one another, and support ministries in our community, state, and world.

We believe God's love is known in Jesus Christ. We are from the Baptist tradition and affirm the ability of each person to interpret the Bible for herself or himself. While we practice baptism by immersion in the beautiful waters of the Gulf of Mexico, we welcome all people from various Christian denominations to share fully in our church and partake in Holy Communion on the first Sunday of each month.

We also believe that all gifts of the Holy Spirit are given to both men and women. We believe that God calls both women and men to ministry in the church and the world.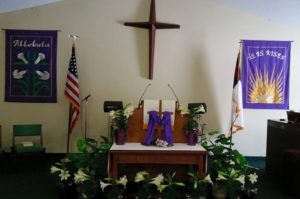 Our congregation is affiliated with the Cooperative Baptist Fellowship (www.cbf.net) through which we help support 130 missionaries around the world. We participate on the state level with the Cooperative Baptist Fellowship of Florida. Locally, we are affiliated with the Emerald Coast Fellowship of Baptist churches. We support Seeker Fellowship, a new church starting in Fort Walton Beach, Florida.

We support Interfaith efforts to build bridges with people in our local area. Our pastor and members participate in Interfaith meals and gatherings with our Muslim sisters and brothers from across the Emerald Coast.
Our Name – Our church was formed as The First Baptist Church of Bluewater Bay. In 2010, the church changed its name to Bluewater Community Church. While we are affiliated with Baptists, we invite all followers of Jesus to participate. We support historic Baptist distinctives like social justice, religious freedom, and soul liberty.